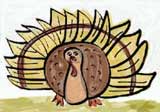 President Abraham Lincoln proclaimed Thanksgiving a national holiday in 1863

Q: Do you know the other name for the cornucopia?

A: Cornucopia's other name is "horn-a-plenty"
HOME/Holiday/thanksgiving-coloring-pages.html
Thanksgiving Coloring Pages
EASY & FUN ACTIVITY FOR KIDS on THANKSGIVING!

Want more coloring pages, goto the free coloring pages section with more holidays, activities, and placemats.

Tip on printing:

Use print preview in your browser and choose page setup. Setup "0" margins, and turn off header and footer! Ads are automatically disabled on printing!

TIP: Decorate several inexpensive disposable containers with stickers, drawings and raffia to create "doggie bags" for your Thanksgiving dinner guests! --The kids will have fun creating designs too!

Thanksgiving Flash Game!
FREE online GAME! For more games check our games page.
Our Featured Freebie: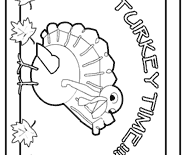 Turkey Time coloring placemat!
Color individual pages or download a bunch to make your own coloring book.
If you would like higher resolution images for coloring we sell the coloring pages at 150 dpi in our store in coloring page collections delivered as an ebook. Coloring books start at $1.99 and are delivered in .pdf format.