Valentine's Day Fun Facts!

The name Valentine's Day comes from St. Valentine
HOME/free-coloring-pages.html
FREE Printable Coloring Pages
EASY & FUN ACTIVITY FOR KIDS!!

All the coloring pages on our site are free and printable, and made especially for kids.! You may download and print, BUT not for resale, or reuse in any commercial collection other than educational and/or personal use. Please read our terms of use.

Valentine's Day Coloring Pages

Tip on printing:

Use print preview in your browser and choose page setup. Setup "0" margins, and turn off header and footer! Ads are automatically disabled on printing!

TIP: Make Valentine's Day personable by giving heart shaped sugar cookies, and writing to and from on the cookie with red and pink icing.

Independence Day Coloring Page

Learning Spanish Coloring Pages

Animal ABC's -Learn your alphabet and animals at the same time!!!!!

St. Patrick's Day Coloring Pages

Winter Snowman Game!
FREE online GAME! For more games check our games page.
Our Featured Freebie: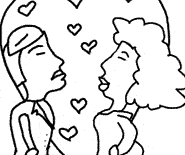 Color individual pages or download a bunch to make your own coloring book.
If you would like higher resolution images for coloring we sell the coloring pages at 300 dpi in our store in coloring page collections delivered as an ebook. Coloring books start at $1.99 and are delivered in .pdf format.